The Games That We Play, the first book in the Games, Games, Games series, is now available through Amazon. Right now, it's Kindle format only, but we're working on getting a print version available soon. If you're interested, you can check it out now.
So what's it about? Kids tend to have pretty wild imaginations, right? And as kids, we have a tendency to create these wild worlds we place ourselves in to play. So what happens when one turns out to be real? And when it comes back to you as an adult? You'll just have to read it to find out. 😉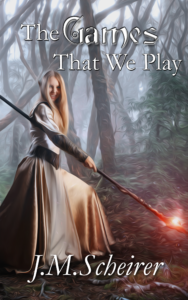 P.S. Once again, I want to thank TR Goodman for all his help making this possible. I also want to thank Adriane Ceallaigh for her assistance in making this dream a reality.